Richard Vines
Hackney is becoming so hip, it's tempting to expect the restaurants to be style over substance, aimed at an Instagram generation whose highs and lows may not always be gastronomic.
That's just not true. The cooking and service at many spots rival those in the West End, which tend to be more expensive and formal. It's worth the trip to East London, one of the city's newer dining destinations.
Here are 11 great places to try.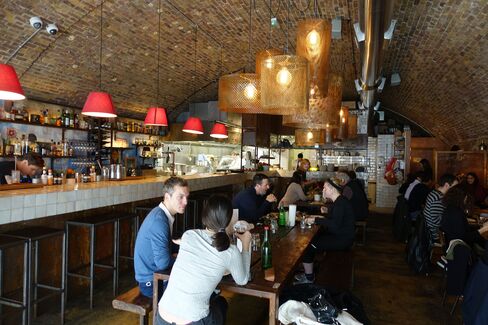 This grill house in a railway arch in Haggerston serves dishes from across the Middle East and North Africa, including home-smoked meats finished on an open grill. There's a bar along one side of the room, offering craft beers as well as unusual cocktails. For somewhere so cool and moody, the service is friendly and efficient. Dish to try: The Full Israeli brunch at £25 ($35) for two.
Arch 338, Acton Mews, E8 4EA; +44-20-7923-0829
This colorful café in Haggerston is an unlikely place to find some of London's finest chicken. The birds are free-range herb-fed while the vegetables are from the Keveral Farm organic farming community. The chicken comes hot, sweet and sour in crunchy coatings, while the original cocktail list offers a range of sours. Dish to try: Guest Fry – drumstick & thigh, kung pao glaze, chilli, peanut, spring onion (£11).
390 Kingsland Rd., E8 2AA