New York enjoys the well-earned reputation as one of the most international cities in the world and it was no surprise to find deliciously diverse food offerings during the recent Pop up street food fair close to Grand Central Train station.  See below some of the food vendor that caught our eyes and represented their countries well.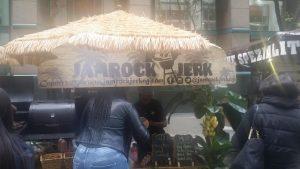 Jamaica was well represented by JamrockJerk which had some of the longest lines with patrons cueing up to get a taste of the famous jerk chicken, beef oxtails and rice and pees.
Athens Delite also showcased some of the iconic Greek foods that we all know and love including Gyro and Souvlaki.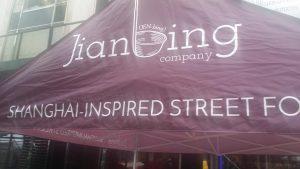 JianBing highlighted interesting Shanghai inspired street food with their signature multigrain crepe, organic eggs, scallions with inside choices including Lemon-Garlic Chicken, Honey-Ginger Tofu or Hoisin-Lime Beef.  Interestingly, the company had a social marketing strategy by offering 50% off your next Jianbing one tagged a picture and shared on social media under the #eatjianbing. Very clever.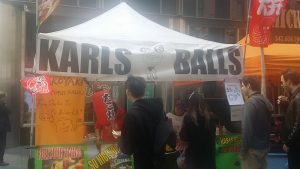 Japan also was represented by Karls Balls serving the classic Takoyaki which for those unfamiliar means fried Octopus balls. He likes to say he brings it from Osaka to yo blocka. Worth trying for sure.
Korgai also served good Thai cuisine while Kimchi Taco cooked up some Korean BBQ for patrons.  German Bratwurst was also a crowd favorite with its assorted menu of Bauernwurst, Chickenbrat and Currywurst.
Latin America was well represented by Choklo with its Taste Ecuador offerings.
From surveying the diverse crowd strolling through the streets, it appeared that this was a successful food tour and everyone seemed to enjoy themselves and sought out new culinary experiences.