By Kel Jack
 The sports world was abuzz with the introduction of the ZO2 Prime basketball shoe designed by Lonzo Ball at the head shaking price of $495. For a few days after the release, they were one of the top trending topics on Twitter and other social media. Naturally everyone was surprised at the high price point for a basketball shoe for a player who has never scored a basket in the NBA.  Lavar Ball, father of Lonzo Ball and owner of Big Ballers Brand noted on the Dan Le Batard show that he believes that seemingly astronomical price is the worth of the shoes because they are symbolic of the revolutionary nature of this entire endeavor. He also stated on the Undisputed, a talk show with Skip Bayless and Shannon Sharpe concerning his son, "he's the first one ever to come in here without even playing a game and have his own brand." Time will tell if he is vindicated by this premium pricing strategy. One thing is clear though, he has ushered in another business model for other high end athletes to consider.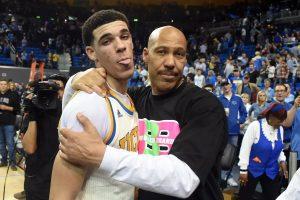 Espn.com Darrell Rovell reported earlier that Ball, who has been called the worst thing to ever happen to basketball in the last 100 year by Nike executive George Raveling, was unable to secure his desired co-branding partnership deal with Nike, UnderArmour and Adidas because of his insistence that any company that wants to work with his sons must license the Big Baller Brand. Lavar Ball has always maintained that his goal was to build the family's brand into a billion dollar brand and was open to partnering with Chinese shoe brands including Peak, Li-Ning and Anta or other potential nontraditional business partners such as Facebook. This might seem outrageous on its face that a relatively recent unknown person can accomplish this so brazenly.  What if we assume that Lavar is not crazy to believe that he can successfully disrupt the athlete endorsement shoe industry in the same way the controversial maverick, Travis Kalanick of Uber did to the established taxi industry? How could this happen and could it even make the world a better place?
First and foremost, the success of the Ball brand would depend on Lonzo Ball "balling out" in the NBA and becoming a generational talent like Magic Johnson to whom some have compared Lonzo's vision and basketball IQ. He would have to help turn around the basketball fortunes of the franchise that picks him in the upcoming June 22 NBA draft (for example, helping the Los Angeles Lakers, if they select him with the second pick, make the playoffs which they have not done in the last four years). Such a turn of events would skyrocket his marketability. Unsurprisingly, Lavar and Lonzo have not been shy about publicly professing their preference for their hometown Lakers as the landing spot for Zo to display his talents.
Second, Lavar Ball could take a page out of the playbook of another maverick shoe company, TOMS, which pioneered a different way to think about shoes.  According to TOMS founder, Blake Mycoskie, he had no experience in the shoes market before he started TOMS and first utilized the One for One business model that helps a person in need with every product purchased. In 2014, according to fortune magazine,  the company (which has donated 70+ million shoes) hit a valuation of $625 million and sold a 50 percent interest to Bain Capital. Today it is most likely a billion dollar brand.
What if Lavar Ball could couple his entrepreneurial exploits and marketing prowess with a worthwhile social cause or mission that is authentic to his Big Baller Brand? One of the best current NBA players with major shoe endorsements, Lebron James has funded scholarships for Akron kids and is well respected for it and his brand rightfully receives the goodwill from his magnanimous acts. From his interviews on various platforms, Lavar seems to take pride in being a hands on father of his three sons and believes strongly in advocating ownership of assets particularly concerning athletes who often come from black and minority communities. According to Peter Verry of Footwearnews, Lavar noted "everyone looks up to LeBron [James] and Kobe [Bryant] and KD [Kevin Durant] and their shoes with Nike, but if they ever get mad and want to go their own way, that's fine, but leave those signs there," Ball said. "Leave that KD sign, leave that King James sign and leave that Mamba sign. That's not theirs. With these triple B's, if I'm gone, I'm gone [with my logo] and you can't do nothing about it."
If every Big Baller branded footwear sold, yes even the headshaking $495 Z02 Prime, helped provide resources to low income or communities of color via a percentage of sales or a fixed donation to effective programs that teach business skills, personal finance, entrepreneurship, branding, fatherhood or general life skills, this approach would not only be good marketing for the Big Baller Brand but would also if done well be a positive impact in the world. Perhaps it might even provide additional context and meaning to Lonzo's statement on the ZO2 release video that "this one is for the culture".
By making Big Baller Brand a social entrepreneurship model similar to what Blake Mycoskie did with TOMs, Lavar Ball might actually achieve his goal of creating a billion dollar brand and also positively impact the world. At GrubPassport, we always believe the glass is half full, perhaps we can be accused of being overly optimistic but stranger things have happened!
Share your thoughts with us on Twitter @Grubpassport or Facebook or contact the author at Kjack@grubpassport.com