Food has always been recognized as a great way to interact with the outside world.  Hence at GrubPassport.com we endeavored to write about some international themed lunches around the New York City area.  This week we chose a Lebanese Restaurant in New York City.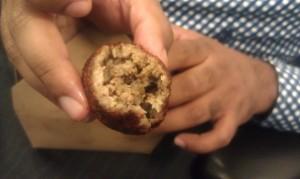 Colleagues working in Midtown Manhattan ventured with us to a restaurant that boasted foods from Lebanon – Naya Express located  at 688 Third Avenue between 43rd and 44th Street in Manhattan, New York.  We sampled the iconic Lebanese specialties of Tabbuloh  and Kibbeh.  We also ordered the beef shawarma(roasted strips of marinated prime beef) on the Naya Roll(freshly baked whole wheat wrap) and also chicken shawarma (roasted strips of marinated chicken breast) in a Naya bowl(vermicelli rice with toppings and Naya home made sauces). The prices were reasonable starting at $8.03  for the Naya rolls with extra $1.84 for the Naya Bowl.
The staff at Naya Express were also helpful in telling us more about Lebanese cuisine and offering suggestions for those who were not familiar with the many choices available.
Ultimately, we enjoyed our lunch experience at Naya Express  and on the GrubPassport.com cuisine scale, the grub was rated a solid Gold.
GrubPassport Rating Scale:
Platinum– Heavenly- Simply out of this world,
Gold– Scrumptious- lick your fingers good
Silver– Tasty, will try occasionally
Bronze – Palatable, I survived
Wood– Atrocious- belongs on "Fear Factor"
If you have been to Naya Express, share your thoughts or if you have another restaurant that should be included in the GrubPassport.com Lunch Series, email us at contact@grubpassport.com or by Twitter @GrubPassport.