January 24, 2013
The 10th Anniversary of the New York Times Travel Show held on January 18- 20 at the Jacob Javits Center was absolutely fantastic! We witnessed presentations from over 500 exhibiting companies from over 150 countries.  Some countries and companies provided spectacular presentations to the extremely energetic and travel hungry crowd.
We wanted to highlight some of the presentations and booths that caught our attention.
Countries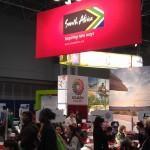 Without a doubt, South Africa had one of the best designed and effective booths which highlighted the various attractions in South Africa including available tours from inner city Johannesburg and Soweto and an ultra-friendly staff that dutifully provided useful information about enjoying your travels to South Africa.
The Caribbean countries also made sure they left an impression on eager travelers seeking a little fun in the sun.  St Kitts and Nieves provided entertainment with steel drummers and visitors marveled at the talismanic dancers at the Grenada booth.  Perhaps one of the most attractive and attended booths was Jewel Resorts of Jamaica which offered authentic mouth-watering Jamaican grub that caused a massive line at the Jacob Javits Center.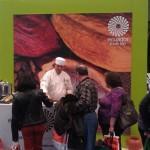 Not to be outdone, Indonesia provided a spirited traditional performance that wowed the audience, and the cooking demonstration by Japan mesmerized the participants with powerful scents of Japanese dishes.  Malaysia also boasted an eclectic booth, which featured Taste of Malacca and Malaysian tourism.
To satisfy the sweet tooth, Ecuador offered some delectable Chocolate-covered pretzels to participants while highlighting the unique attractions of Ecuador.
Tours, Cruise and Travel Companies
Representatives of various tour and travel companies were on hand to educate consumers about some of the destinations and experiences they provided and for the most part they did a great job. Norwegian Cruise line highlighted the advantages of their new ship -The Norwegian Breakaway- which they mentioned would include one of the iron chefs on board and provide expanded choices in dining and entertainment and would set sail from New York in the summer of 2013.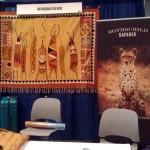 Yampu Tours and Sita World Tours also offered consumers information on the various countries in which they provide guided tours. There were also some interesting safari companies including Rhino African Safaris and Rothschild Safaris that operate mainly in Africa and the Middle East.
Silk Road Treasure Tours had a colorful booth with representatives dressed in authentic cultural attire, and offered participants the opportunity to explore Central Asia.  Shamrock Tours and Car Italy and Tours provided information about the historic sites that are visited in Ireland and Italy, respectively.
Hotels and Resorts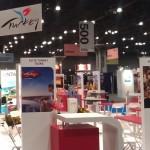 Hotels and Resorts including Instanbul Hotels of Turkey, Intercontinental San Juan Resort and Casino and Occidental Hotels and tours of Aruba had exciting booths that offered participants a glimpse of various vacation comforts.  Changjiang Cruises Overseas provided an enticing package for experiencing China with the amenities of a cruise ship.
All the fun was not left for the adults, as kids also participated in exciting activities. The kids were attracted to the Sea World presentation including the live penguin show and Cliffhangers for New Jersey mountain climbing showcase.  This was just a taste of the experience at the New York Travel Show, as we will discuss more showcases and share more pictures from the Travel Show in upcoming posts.