By Kel Jack
June 10 2015
The NBA finals matchup between the Cleveland Cavaliers and Golden State Warriors are the highest ratings they have been in the 12 years to the surprise of no one. The games have featured two of the most marquee current NBA players in Lebron James who is often referred to as the best player on planet Earth and reigning MVP Stephen Curry. Amidst these titans of the sport what we don't see but has an immeasurable impact is lady luck.
The entertaining series has so far lived up to the high expectations with three exceptionally competitive games and offer delicious story lines including King James and the Cavs quest to end the long championship drought in Cleveland despite the injuries of All Stars Kevin Love and Kyrie Irving. The Warriors led by the Splash brothers Stephen Curry and Klay Thompson will also be looking to bring the Larry O'Brien trophy to Golden State for the first time since 1975.
The popularity of these NBA finals allows everyone and their grandmother to offer predictions on the outcome with reasons ranging from the desire to see adorable Riley Curry and her humble father Stephen Curry (or if Twitter has its way effervescent grandmother Sonya Curry) celebrating in the event of a Golden State championship to people wanting to find out what extra motivation King James used during these games as he promised to reveal after the Game 2 Cavs victory only if the Cavs were ultimately crowned 2015 NBA Champs.
The Golden State Warriors are currently favored to win the series and analytically it is hard to argue against the odds makers. The Warriors are the deeper and more talented team, have the better and most experienced coaching staff and after having the best record in the NBA dispatched their West Coast rivals New Orleans Hornets, Memphis Grizzles and Houston Rockets in a seemingly effortless way. The Cavs are the undermanned team after losing All Star Kevin Love in the first round series and Kyrie Irving in Game 1, but they have the services of Lebron James and also Australian defensive ace (some say Curry's salt/kryptonite) Matt Dellavedova who has been instrumental in the Cavaliers two recent victories.
ESPN pundits Steve A Smith and Skip Bayless of First Take have differing predictions with the former picking the Cavs in six games and the latter the Warriors in seven games.
How do we see this playing out?
The warriors are clearly the better team as their regular season 67 win record evidences and if everything goes according to script should win this series in a maximum of six games.
However in my almost three decades of watching sports and NBA basketball in particular, I appreciate that things do not always go according to where logic dictates. Unexpected fortuitous bounces (cue Chris Bosh rebound and pass to Ray Allen for game winning three point shot in game six of the 2013 Heat/Spurs finals) and lucky breaks have a way of intruding on sporting events while some people have the uncanny ability to attract good fortune at the right moments (see Robert Horry who won 7 NBA rings and earned the nickname big shot Bob for hitting clutch jump shots at crucial times.)
Steve Kerr could arguably be one of the "luckiest" people in sports. He won 5 championship rings as player with the Michael Jordan led Bulls and San Antonio spurs and in only his first year as an NBA head coach guided a Warriors team built by former Coach Mark Jackson (unmercifully part of the ABC broadcast team and handling it as well as one can imagine) to the best regular season record and the NBA finals. I do not discount Steve Kerr's talents by highlighting his good fortune because I think he has the hallmarks of not only a good NBA coach but an elite one with his play calling and ability to strategically game plan (see the brilliant series saving strategy to defend poor shooter Tony Allen with Andrew Bogut in the Memphis series.)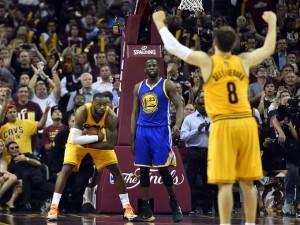 David Blatt also has a Cinderella story to tell. In only his first year as a head coach in the NBA after a successful coaching career in Israel and Europe he had the good fortune to coach the best player in the league when Lebron James unexpectedly chose to return to Cleveland (am I the only one that believes that if Coach Calipari knew that Lebron would leave South Beach and return home he would not have had long conversations about the Cavs head coaching job with owner Dan Gilbert?) and led them after a tough regular season start to the NBA finals. Coach Blatt would have to channel his best instincts and emulate Dallas Coach Rick Carlisle who employed creative strategies to defeat a better talented Miami Heat team in the 2011 NBA Finals with the likes of Jason Terry, an aging Jason Kidd, J.J Berea and the talismanic play of German superstar Dirk Nowitzki. He would need to exploit the only weakness of the Warriors and may have to employ the "hack a bad free throw shooter" (many choices including Bogut, Ezeli and Igdouala who might defend Lebron less confidently if he has to also concentrate on making free throws in hostile environment) and also need get contributions from sharpshooter Mike Miller.
Ultimately a legitimate case can be made to support the Warriors continuing their magical season that saw them earn the best regular season record and league MVP in Stephen Curry. However, I think the Cavs will win this series not only because of the brilliant and out of this world play of Lebron James but also because I think the lady luck seems to be smiling on the state of Ohio this year. Nobody would have logically predicted that Ohio State University with a third string quarterback would have beat seemingly better opponents Alabama and Oregon to win the College Football Championship. Similarly, I think this Cleveland Cavaliers team will find a way and get the lucky breaks to win this series in seven games (see Dellavedova bank shot three point play with 2:28 in Game 3 with Cavs clinging to a one point lead.) With apologies to the Dub Nation, Lebron James will get his third Championship ring and finals MVP and the barbershop arguments of whether Michael Jordan or Lebron James is the greatest of all time will heat up faster than the quick release of Stephen Curry's jump shot.
Contact author at kjack@grubpassport.com or follow @grubpassport on Twitter.